Engenius EWS871AP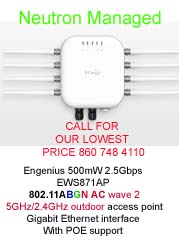 + Industrial-Grade IP67-Rated Housing Withstands Harsh Environments
+ Supports 802.11a/b/g/n ac standards fully backward compatable with all devices.
+ Up to 27 dBm high RF power on 2.4 GHz. Up to 26 dBM on 5 GHz for longer range, enhanced wireless coverage
+ 11ac Wave 2 Speeds to 2.5 Gbps
+ Dual-Radio MU-MIMO Improves Performance & Expands Capacities
+ 8 Detachable, Omni-Directional Antennas with N type connectors for Both Bands
+ Beamforming Optimizes Signal, Reception & Reliability for Clients
+ 2 GigE 802.3at PoE Ports with 2nd PoE Pass-Through Powers IP Cameras or APs
+ can be managed stand alone, with a neutron management switch or free ezmaster software instance.