Ekahau Site Survey Professional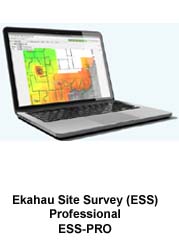 For wireless professionals, IT managers, and administrators, Ekahau Site
SurveyTM (ESS) is an easy-to-use design, verification and troubleshooting
tool for any Wi-Fi network. ESSTM is a visual, software-based tool that
runs on a laptop computer equipped with a supported Wi-Fi adapter.
Ekahau Site Survey ensures high performance and capacity (BYOD)
for any Wi-Fi network that is used for VoIP, video, location tracking,
or high-speed data. If you don't have a Wi-Fi network yet, ESSTM
will automatically suggest access point placement and optimal
configurations. If you already have a Wi-Fi network in place, ESSTM
allows quick and easy site surveys, performance and capacity analysis,
optimization, and troubleshooting.
Network Planning
802.11ac 3D planning, as well as 802.11a/b/g/n*
Automated AP placement and channel
optimization*
Visualize simulated coverage /
performance*
Hundreds of 3D access points and antennas
Fully integrates with Cisco Prime NCS/WCS
Site Surveys
Hybrid Wi-Fi surveys: Simultaneous 802.11ac***
passive and active surveys
GPS outdoor surveys*
Analysis / Reports
Clear Visualizations:
– Signal Strength, SNR
– Noise / Interference
– Data Rate, Overlap
– Roaming, RTT, Packet Loss
– Network Health Analysis
– Capacity (BYOD) Analysis
Locate access points
View Channel range and overlap
Spectrum Analysis**
Customizable reports*
Troubleshooting
On-the-spot Map-based
Find Wi-Fi issues:
– Rogue APs, Broken APs
– Misconfgured SSIDs
– Misconfgured primary channels
– Missing security configs
– Packet loss, high latency
– Excessive interference
RTLS Deployment
RTLS calibration
Accuracy analysis
Track laptop or Wi-Fi tag