Long Range WiFi setup for boats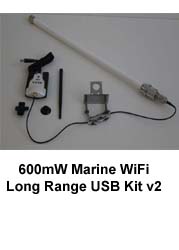 Many of you have found us from a number of boating enthusiast websites across the Internet. We know long range WiFi and understand the best product to use for the application.
Our Marine kit includes a 600mW USB client with SMA connector. This is a simple device to setup and will give you great range better than any other USB adapter we have tested. It also works with all 802.11 b g and n networks.
It comes with a 5 foot USB cable and detachable antenna installation is plug and play with a driver for VISTA, XP and 7 and also now supports MAC. You will have to mount the adapter inside and connect the USB cable to your computer. When used with our marine 8.5dBI antenna the range is doubled. This will be your best bet you can run the antenna cable outside and mount to a pole with the included hardware. The antenna should be mounted low on your deck with the USB adapter mounted inside and attached to your computer with the 5 foot USB cable. We offer bother a 2 foot and a 20 foot antenna cable ( you will get the best signal with the short 2 foot antenna cable but the longer cable gives you more mounting options) This is the best configuration it is not recommended to try and extend either the USB or antenna cable further performance and reliability will suffer.
You can purchase the Marine USB Kit Here
---
Attention Marina operators
We also have a kit for the Marina operator that wants to provide the strongest WiFi to their customers.
Click here for the 800mW rugged outdoor ENH1750EXT
Here are some more links with success stories about using Keenan products on boats.


practical-sailor Marine Electronics: Build an Inexpensive Wireless Network

Practical Sailor contributor and bluewater cruiser Joe Minick details the benefits of an onboard Wi-Fi computer network on a cruising boat, and explains the easy DIY setup that connects multiple electronics to the Internet via a client router. Beyond the usual benefits, one that is particularly useful to sailors is that an onboard network allows networked devices to share GPS, NMEA instrument information and other navigation data using software like GPSGate from Franson Technology and Handheld for Mariners. Minick used the Engenius EOC2611P from Keenan Systems and the D-Link DWL G700AP in his setup, which has served his crew well as they cruise the Med. The ethernet-based system is similar to the the Bullit2 systems PS tested from Bitstorm and Wave Wi-Fi.


Keenan Systems is a stocking EnGenius Master Reseller for all EnGenius Technologiesí equipment. Product guarantee, pricing and product availability is never an issue for our customers. All EnGenius products come with full factory 1 year warranty along with factory rebate eligibility. Products purchased from unauthorized resellers or e-tailers may result in defective products, lose of rebates, or no warranty services.