AirMagnet Directional Antenna (Optional):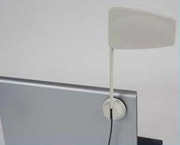 Download in PDF format
Click here for price quote or call us at 860 748 4110
The AirMagnet Directional Antenna will enhance the RF detection and capabilities of the AirMagnet Analyzers in a single direction helping narrow down the search pattern far more effectively. It is small, light and portable.
Users need to attach the Velcro base (supplied with the directional antenna package) to the laptop and connect it to the AirMagnet card and start analyzing the wireless environment in the specific area.
Note: Supported only on Ubiquiti SRC 300mW MMCX
Click here for price quote or call us at 860 748 4110