AirMagnet Enterprise 7.0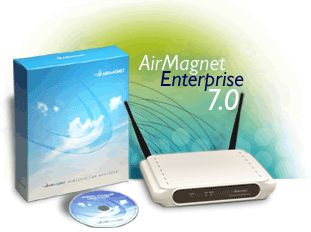 Buy AirMagnet products here at keenan Systems the wireless network experts. Our many customers large and small trust AirMagnet to keep their Wi-Fi networks secure and performing well.
Don't buy AirMagnet just anywhere
We have the best prices.
We are an authorized AirMagnet reseller.
We know the products inside and out and can answer detailed questions.
Click for price quote or call us at 860 748 4110
AirMagnet Enterprise provides complete visibility and control over any number of wireless LANs, from anywhere in the world. The system automatically identifies hundreds of wireless threats, vulnerabilities and performance problems, and takes proactive action to defend the network. Threats are automatically stopped with a combination of both wired and wireless suppression techniques. Users can proactively identify the root-cause of performance problems as they emerge and remotely resolve them with a suite of active troubleshooting tools. All events are documented with a built-in reporting engine which includes the industry's most comprehensive set of industry compliance reports.


Key Features of the AirMagnet enterprise Solution Include:

Automated Intrusion Prevention
When threats arise, AirMagnet Enterprise actively protects the network with multiple layers of automatable defenses. This layered approach insures that technical teams are always armed with tools appropriate for every type of threat.

Wireless Blocking
Wireless blocking gives managers the ability to reach out and stop wireless threats at their source. Any client, AP, ad hoc device, or network attacker can be selectively targeted and blocked without impacting the normal operation of the network.

Wired-Side Blocking
AirMagnet Enterprise also includes the ability to trace and block threats at the wired switch port, providing a complementary layer of protection to shield the wired network from threats originating in the WLAN.

Location Awareness
AirMagnet can show the location of any number of devices including rogues and wireless threats on a floor plan map. Users can define the boundaries of their buildings to selectively alarm on rogues that are inside their premises.

Device Tracing
AirMagnet can automatically investigate and trace any threatening device to expose where the device is attached to the wired infrastructure. This allows users to know immediately if a given device is putting the wired LAN at risk.

Automated Response
All AirMagnet defenses and investigations can be tied to policy and triggered automatically. This insures networks are protected 24 hours a day, even when staff is not readily available.

Ease of Use
AirMagnet provides system-wide event correlation and anomaly detection to uncover trends in the network. A dedicated correlation page exposes the specific devices at the root of network problems, making it simple for managers to see which devices need immediate attention.



3D Rogue Control
AirMagnet provides a complete approach to rogue management that includes the ability to Detect, Disable, and Document every rogue. Multiple detection mechanisms immediately expose every rogue, an active blocking suite can disable the rogue both on the wireless and wired side, and a dedicated rogue page provides consolidated details on every rogue.


Best of Breed Performance Monitoring
In addition to security, AirMagnet also offers the industry's best performance monitoring. The system audits for dozens of configuration issues that can steal network performance. 802.11g devices are monitored to insure they are providing the correct speeds and bandwidth. The system also monitors Voice-over-WLAN devices and can even alarm when calls are degraded.


Spectrum Analysis
AirMagnet offers the only solution to combine both WLAN analysis and true spectrum analysis in a single device. With AirMagnet's Spectrum Sensor, users gain true visibility and intelligence into Layer 1 of any wireless LAN and can automatically identify devices that are interfering with the wireless network.

Full Disclosure Policy Management
The AirMagnet solution is driven by the needs and policies of your business. AirMagnet Enterprise includes pre-configured policies tied to specific industry and regulatory, including health-care, financial, government, retail and many more. Policies are easily customized to any environment and can be integrated with any management process with a suite of available notification methods including SNMP, Syslog, pager, email, IM and many others.


SmartEdge Architecture
AirMagnet Enterprise is the only solution to perform a complete wireless analysis locally in the network itself. Our unique SmartEdge Sensors analyze every wireless packet, device, and conversation for security and performance problems. By removing the need to forward large amounts of data for remote analysis, the SmartEdge Sensors always have access to a complete set of data and require 50 times less bandwidth than other solutions. Each AirMagnet Enterprise Server can support thousands of SmartEdge Sensors, allowing AirMagnet to scale with any network. Every SmartEdge Sensor supports Power-over-Ethernet, includes removable antennas, and is plenum-rated. AirMagnet also offers weather-proof, ruggedized sensors for monitoring outdoor environments.


Industry's Most Trusted Security and Performance Troubleshooting Solutions
AirMagnet Enterprise gives administrators a professional set of resources to actively troubleshoot their wireless networks remotely. Enterprise's remote toolkit works identically to AirMagnet's mobile analyzers, already trusted by thousands of enterprise users as the gold standard for wireless LAN analysis and troubleshooting.


---