AirMagnet Survey Pro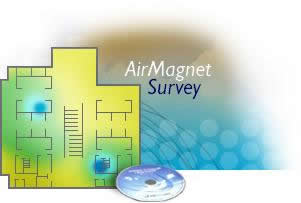 Buy AirMagnet products here at keenan Systems the wireless network experts. Our many customers large and small trust AirMagnet to keep their Wi-Fi networks secure and performing well. We also stock the hard to find AirMagnet wireless network cards.
Don't buy AirMagnet just anywhere
We have the best prices.
We are an authorized AirMagnet reseller.
All products come with one year free updates and support.
We know the products inside and out and can answer detailed questions.
Click here for price quote or Call us at 860 202 9402
AIRMAGNET SURVEY PRO is a separate version of the Survey software containing all the functionality of the standard version plus an additional set of features tailored to the needs of the wireless expert. Additional features include:

Reporting : Survey PRO automatically produces detailed, multi-page reports suitable for end users. Survey professionals can instantly create graphically rich survey summaries to share with less technical network owners. This reporting feature dramatically reduces project time and visibly improves communication with clients.
Integration with AirMagnet Spectrum Analyzer: Users with both Survey PRO and Spectrum Analyzer can collect and view both Wi-Fi as well as spectrum analysis data in their site surveys and reports. This provides a location-specific history of how the RF spectrum relates to Wi-Fi performance.
AirWISE for Site Surveys: AirWISE allows users to enter a variety of design requirements for the wireless LANs and immediately view all areas that fail to meet their standards. AirWISE then offers expert advice and background to help the user resolve any problems.
Capacity Planning: Allows users to define the number of end-users in a given area and insure that there are enough access points to meet their network performance needs
Support for Outdoor Surveys : Survey PRO can be used with any NMEA compliant GPS device for automated outdoor data collection. Pro also includes support for Microsoft Map Point for easy loading of outdoor maps, and also supports the 4.9 GHz bands.
Multi-floor Survey : Concurrently displays results of up to four floors of a structure. This feature allows users to map an AP's signal and see how it reaches and affects floors above and below the AP. Users can account for bleeding signals to prevent interference or target deployments to use a single AP to cover multiple floors.