EnGenius 600mW EUB9603h review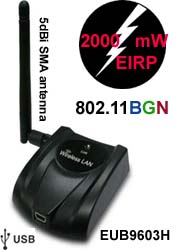 Click here for more information on the EUB9603h

The EUB9603H is the latest high power USB adapter from EnGenius. It has 600Mw of transmit power and supports 802.11bg and n networks. So it will work with old 802.11b or g routers as well as new 802.11n routers.
The EUB9603H replaces the very popular 200mW EUB-362 EXT and extends the range even further with 3x the transmit power.
The EUB9603H has 2 USB connections one for power / data and the other for extra power. Although some computers we tested worked with just one.
The EUB9603H supports windows XP, Vista and & and also Apple Mac OS
There is a 5dBi omni directional antenna with SMA connector So it can be replaced with a MAG mount or Pigtail for external antenna.
One of the best new features is the software that comes with the adapter has an option to create a virtual hotspot. This is much like the tethering options on the latest smartphones but without the extra charge or data plan usage. So the computer with the EUB9603H can share the Internet connection with multiple devices. You can even specify a security key for the virtual hotspot for privacy.
One our customers owns several beach cottages with a main office several hundred feet away. Without the EUB9603H laptops could not connect to the office router from the cottages. Once the EUB9603H was installed it got a strong signal and a virtual hotspot was created. Then a second laptop could teather to the hotspot as well as a Iphone.
Click here for more information on the EUB9603h