EnGenius ENH200 Review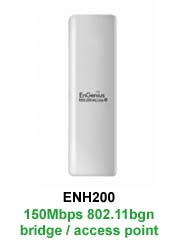 The NEW ENH200 is a high speed 2.4 GHz 802.11b/g/n outdoor bridge/access point from EnGenius Technologies. The ENH200 comes with a built-in 10dBi directional antenna and 500mW transmit power with excellent receiver sensitivity of -89dBm.

The ENH200 is perfect for point-to-point solutions! Similar dimensions and form-factor, minus the external antenna connector, to the EOC2611p & EOC2610 the ENH200 is ready out of the box.

Testing showed raw throughput of around 50Mbps with a 150Mbps data rate connection, equivalent to the maximum raw throughput of wired Fast Ethernet, which is up-to 70Mbps.

This makes a pair of ENH200 the perfect solution for wirelessly connecting two buildings at speeds similar to Fast Ethernet without the cost of trenching and running cable. Just configure one unit in Access Point mode and another in Client Bridge mode and your done!

The ENH200 includes connection status lights and pole mounting hardware to assist during complicated setups in the field.

The ENH200 also comes with 2 Fast Ethernet ports, one for the included PoE injector and the second for Ethernet only connections. This comes in handy for IP camera projects or connecting an additional access point at the same location to expand your wireless network even further.

The EOC2611p is still the product of choice when considering applications involving long-distance Internet access. Keep in mind the speed limitations of most Internet connections, which are less than 10Mbps, and faster wireless connections typically make no difference. Range & connectivity are the primary factor for long-distance applications.