EnGenius ENH500 12,000mW EIRP 5.8Ghz 300Mbps 802.11n bridge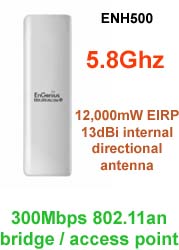 ENH500 Wireless Outdoor CPE features a 600mW 5.8Ghz radio with a built in 13dBi high gain antenna for a EIRP output of 12,000mW!
with high output power and high sensitivity can extend the transmission range to
deliver a stable wireless connection. ENH500 integrates 4 operation modes: Access
Point, Client Bridge, Client Router and WDS.
The combination of interference free 5.8Gz and the high speeds of 802.11n make the ENH500 a stable high speed bridge.
The ENH500 includes 2 ethernet ports a 24v PoE injector and mounting hardware. It Also has external signal strength LED's for easy setup and troubleshooting.
With integrated 13dBi dual-polarized antenna, itís convenient to build up to 15 mile long
range wireless link while reducing dead spots. Advanced multi-function operation
modes offer flexibility in constructing scalable wireless networks for all possible
applications. ENH500 is designed to deliver reliable service under harsh outdoor
environment with certified IP65 protection and tailored to accommodate multimedia
streaming services with data-rate up to 300Mbps. Most importantly, it is built-in
encryption standards (WEP, WPA, WPA2, TKIP/AES and IEEE802.1x) ensure
maximum security and compatibility.