The EnGenius EOC-2610 is a better replacement for the 2611-CB3 and RooTenna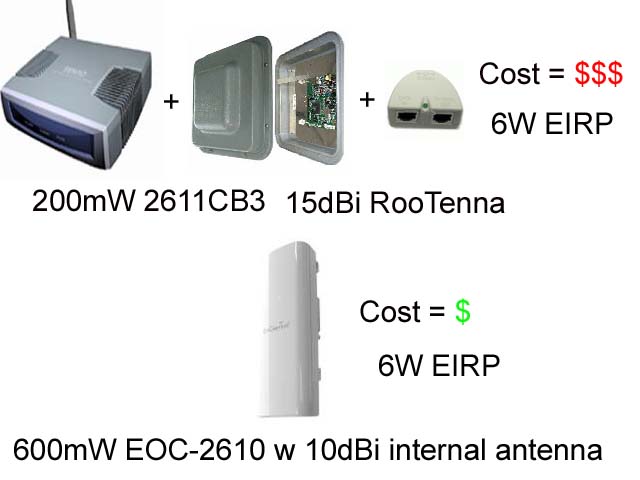 You can purchase the EOC-2610s for same business day shipping here
Many of you have had great success using the indoor 200mW EnGenius 2611CB3 along with an outdoor enclosure like the 15dBi RooTenna and a 12v passive power over Ethernet injector. This combination provided 6W of transmit power EIRP but at a cost of voided warranty and a messy install. The 12v power over Ethernet could be extended to less than 100 feet. Although cost effective at the time the combination would run more than $150 and was never designed for outdoor use.

Things have now changed with the introduction of the 600mW EnGenius EOC-2610. The EOC-2610 has 600mW of transmit power and a built in 10dBi panel antenna for a EIRP of 6W in a compact outdoor package. Designed from the ground up to be used outdoors the EOC-2610 comes with everything you need. A 24v Power over Ethernet injector that is good for 300 feet and pole mounting hardware are both included. With the SMA connector on the case there is even the option for even higher gain antennas like the Keenan Systems 15dBi. The EOC-2610 also has signal quality LED's on the outside of the case for easy installation. Add the dynamic & feature rich software, MSRP under $100, and a full factory warranty from EnGenius and you have a no brainer.

EnGenius has more than 30 years of manufacturing experience and with their Value Added Distributor (VAD) partners such as Keenan Systems LLC the EOC-2610 will always be available and have shorter lead-times on large volume purchases. Remember Keenan Systems only advertises when the unit is in stock and can ship the same day.
You can purchase the EOC-2610s for same business day shipping here