The EnGenius EOC-2610 is a better replacement for the Ubiquiti Networks' NanoStation2 (NS2).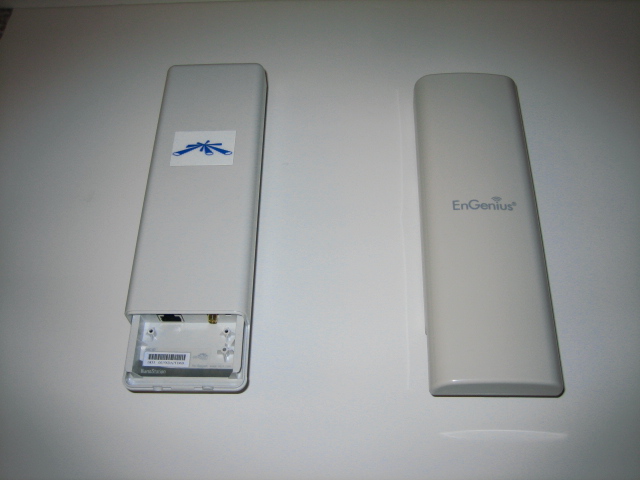 Many of you have tried to deploy the Ubiquiti NS2 as a low cost Customer Premise Equipment device, but have run into several issues.
The NS2 is an attractive unit for Wireless Internet Service Providers (WISP) with built in directional antenna, feature rich, high output power radio, and external signal strength meter.
However, a quick look at several wireless forums show many users have run into either product problems or availability issues.
http://www.dslreports.com/forum/remark,21367007?hilite=ns2+issues
http://forum.ubnt.com/forum/viewtopic.php?t=5507
http://forum.ubnt.com/forum/viewtopic.php?t=5144
http://forum.ubnt.com/forum/viewtopic.php?t=4765
EnGenius has now produced a device, EOC-2610, with a similar form factor & price point of the NS2, but with higher output power (600mW) and without some of the irritating problems.
One big improvement with the EOC-2610 is the 24v Power over Ethernet (PoE) injector, which allows for a full 300 foot Ethernet run. The NS2 supports a 12v PoE injector which may cause problems with voltage drops to an unusable levels after a short distance. This can cause the device to malfunction.
Another improvement on the EOC-2610 is it has double the memory of the NS2, which allows for more simultaneous connections and more stable operation. There is even enough memory to support third party firmware in the future.
The EOC-2610 also adds an external antenna switch that allows technicians to place an external antenna to the unit or switch back to the 10 dBi internal antenna on site without a computer.
Distribution of the NS2 has been more than problematic. From experience, online retailers have been advertising the unit as in stock; however, deliver has taken as long as 2 months to fill for a single unit.
EnGenius has more than 30 years of manufacturing experience and with their Value Added Distributor (VAD) partners such as Keenan Systems LLC the EOC-2610 will always be available and have shorter lead-times on large volume purchases. Remember Keenan Systems only advertises when the unit is in stock and can ship the same day.
You can purchase the EOC-2610s for same business day shipping here