600mW long range outdoor point to point bridge kit under $200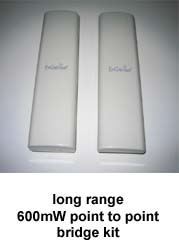 click here for setup instructions
The 600mW long range bridge kit are the best solution for bridging remote buildings. Links can be installed in a couple of hours, not days. The solution includes radio unit with integrated antennas, mounting hardware and all of the necessary documentation. As the most cost-effective point-to-point solution from Keenan Systems any deployment will enjoy a quick return on investment.
The kit consists of 2 high-powered EnGenius eoc2611p outdoor bridges with built in 10dBi directional antennas, PoE injectors and pole mounting clamps. Not only does bridge kit allow Ethernet-enabled devices to communicate wirelessly, it also offers building to multi-building communication and rebroadcast features with WDS repeater. In addition the bridge kit allows the ability to adjust radio power, up-to 600mW, providing longer wireless communication.

Whenever a business expands and adds more office space, that additional space needs access to the network. With the cost of cables, trenching, time, and maintenance hassle, the added network can push plans over the budget. The bridge kit allows expansion to the network without going over budget.

The kit has the capability of point to multi-point. Meaning that you can have multiple locations wirelessly connected to your main network. If you want to expand with additional buildings, all you need to do is add another unit. No need for cumbersome cables, no digging required, just add a unit.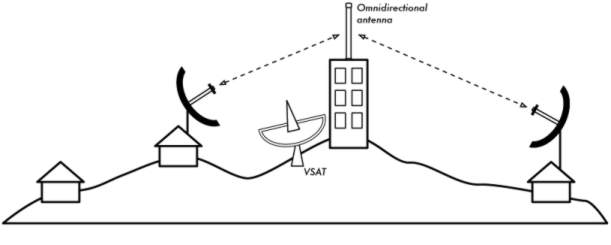 For point to multipoint links up to 3 miles use a eoc2611p at the central location with 8.5dBi omni directional antenna and SMA pigtail connector
For the remote locations just add another eoc2611p unit
Have questions please post to this thread in the forums