WIRELESS NETWORK SECURITY, management and monitoring SOLUTIONS

Whether working in the field or managing multiple WLANs from a Network Operation Center, AirMagnet puts the control of Wi-Fi where it belongs - in the hands of IT. AirMagnet brings an integrated enterprise-wide approach to the Security, Performance, Reliability and Planning of wireless networks.
---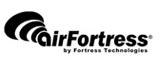 With the unequaled protection of Three Factor Authentication network, device and user - the AirFortress product family offers a reliable, government-validated (FIPS 140) security solution for wireless LANs

.
---