802.11 Wireless NETWORK site survey

---
802.11 WIRELESS NETWORK SITE SURVEY
A site survey should be completed before your wireless network is installed but can be done anytime. Businesses that install wireless networks without a survey often overspend on equipment and have performance issues that are costly to fix.
---
HOW TO GET STARTED
click here to contact us for wireless site surveys. We perform surveys both for end-users and as sub-contractors to other organizations. We cover Connecticut, New York, Massachusets, Rhode Island, Vermont and New Hampshire
Click here for our site survey guide in PDF format
---
Why do we need a Wireless Site Survey?

For starters. Our Wireless Survey specialists provide you with the best assessment of your wireless networking options available

Endorsed by the leading wireless certification vendor Planet 3 Wireless (cwne.com) our highly regarded expertise in wireless networking technology allows us to perform surveys and deploy wifi networks under the most adverse conditions, succeeding where others fail.

A Blueprint for wireless network installations

Access Point locations
Engenius Wi-Fi Switch deployment
Coverage Areas
Channelization
Spectrum Analysis
Frequency Allocation
Secure network design
We custom design every wireless network to control coverage areas to contain radio signal within your premises, helping to prevent unwanted, "drive-by" access to your network. We also recommend appropriate wireless security solutions for your needs, that go beyond the limitations of WEP.
Cost-effective solutions

We get it right the first time
We identify most efficient network topology to minimize number of Access Points needed
We deliver efficient installations by eliminating guesswork
We perform Wireless Site Surveys for 2.4GHz wi-fi (802.11b), 5GHz (802.11a), and emerging standards - for a wide range of products from Engenius, Proxim Corporation, Cisco, 3Com, Enterasys, Lucent, Intel, Symbol, Spectralink and others.


What we provide:
We provide a detailed report including a floor plan or map of your location with wireless coverage areas, access point location, channel selection, throughput results and background noise.
Using our report you can determine:

How many access points your location requires and where they should be placed.
How to increase security by limiting RF leakage into unwanted areas.
What type of wireless standard to use.
How many users you can support and at what range.
How much network bandwidth you can expect.
---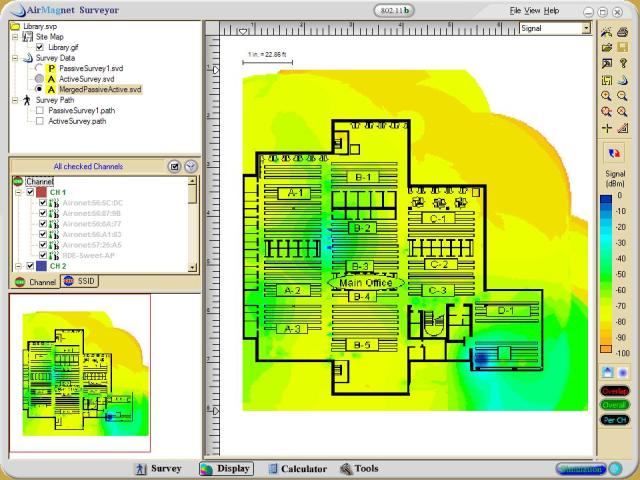 ---
HOW TO GET STARTED
Please complete our site survey request form
Fill it out online or fax it back to us and we will contact you with a price quote
Click here for our site survey guide in PDF format
---