EnGenius EOC-2610 600mW outdoor wireless access point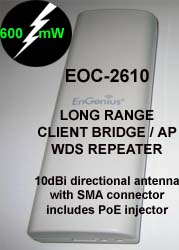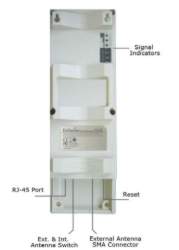 Click here for our price on the new ENH202
Now supports WDS repeater, Multi SSID, VLAN tagging,108Mbps super G, narrowband and much more with firmware update click here for more information
supports new locator utility click here for more information
BETTER REPLACEMENT FOR UBIQUITY NANOSTATION2
50% more transmit power and memory
the PoE has 2x the voltage for longer runs and stable operation
RECOMMENDED USE AS CUSTOMER PREMISE EQUIPMENT (CPE) OR OUTDOOR ACCESS POINT
Click here for review of EOC-2610
Click here for a residential neighborhood example application
click here for forum thread with question on the eoc-2610
click here for a comparison of the eoc-2610 to the ubiquity nanostation2
click here for comparison to the 2611cb3 with RooTenna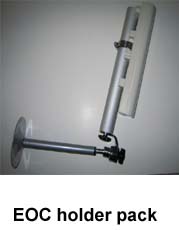 click here for mounting brackets

EOC-2610 is a long range outdoor wireless Access Point and Client
Bridge that operates seamlessly in the 2.4GHz frequency spectrum. It
features high transmitted output power and high receivable sensitivity. High output power and high sensitivity can
extend range and coverage to reduce the roaming between Access Points
to get a more stable wireless connection. It also reduces the expense of
equipment in the same environment.
Up to 600mW transmit power, software selectable variable power output.
Built in 10dBi antenna for line of sight range up to 18 miles.
SMA connector and selector switch for optional external antenna.
External led signal indicator to aid in installation and troubleshooting.
Access point, client bridge and client router modes.
Security modes supported: WEP WPA WPA2
MAC address filtering up to 50 addresses in access point mode
Management: HTTP, SNMP and telnet to linux prompt
24v PoE injector included (Proprietary PoE design).
Pole mounting hardware included, case also has slot mounting holes
With the release of firmware version 1.0.37 the EOC-2610 now supports the following new features:
WDS repeater (repeat the wireless signal with another EOC-2610)
Multi SSID (allows multiple SSID names each each may have different security and VLAN tag)
VLAN tagging (send traffic over private channel for each WLAN SSID)
108Mbps super G (increase throughput by bonding multiple channels)
BSSID checkbox option in Wireless Network Page (locks you client bridge to one AP MAC address to prevent roaming)
Built-in PING function and Trace Route function in Web GUI (WISP troubleshooting features)
narrowband support (Support more than 3 non overlapping WLANS in one area)
and much more

EOC-2610
Business Class
802.11g Outdoor Client Bridge/Access Point
Key Differentiators
H I G H 6 0 0 M W W I R E L E S S P O W E R
Ensures robust signal to overcome long distances
Offers superior WiFi coverage than leading brands
S I G N A L S T R E N G T H L E D I N D I C A T O R
Allows network installer for easy deployment
D U A L A N T E N N A D E S I G N
Ideal For:
Embedded 10dBi panel antenna with external connector for optional
omni antenna
O U T D O O R C P E
Perfect for both Point-to-Point and Point-to-MultiPoint applications
W I R E L E S S I N T E R N E T
P O W E R - O V E R - E T H E R N E T ( 2 4 V P O E ) C A P A B L E
S E R V I C E P R O V I D E S
Less heat dissipation to ensure reliable performance
O U T D O O R W I F I :
Capable of 300 feet PoE cable length
Power Injector Included
C O L L E G E C A M P U S
S U P E R G 1 0 8 M B P S S U P P O R T
B U S I N E S S P A R K S
Enables high transfer speed ideal for multimedia applications (with
SuperG Client)
S M A L L T O W N S &
R U R A L A R E A S
" H O T S P O T S "
M A R I N A S
B U I L D I N G T O
B U I L D I N G ( P T P )


EOC-2610 ­ Technical Specifications Specifications may change without notice.
H A R D W A R E S P E C I F I C A T I O N S
S O F T W A R E F E A T U R E S
MCU/RF
Atheros AR2316 Single chip
General
Memory
32MB SDRAM
Topology
Infrastructure
Flash
8MB
IEEE 802.3 (Ethernet)
Protocol / Standard
Physical Interface
One 10/100 Fast Ethernet RJ-45·Reset Button·One RP-SMA
IEEE 802.3u (Fast Ethernet)
Connector·One switch (external and internal antenna switching)
IEEE 802.11b/g (2.4GHz WLAN)
Operation Mode
802.11 b/g: Access Point, Client Bridge, Client Router
Power/ Status·LAN (10/100Mbps)·WLAN (Wireless is up)·3 x Link
Quality (Client Bridge mode)
LAN
DHCP Client
LED Indicators
Green:
Excellent Quality
VPN
VPN - pass through
Yellow:
Good Quality
Red:
Poor Quality
Channel Selection (Setting varies by countries)
Power Requirements
Active Ethernet (Power over Ethernet) Proprietary PoE design·Power
Transmission Rate
Adapter 24 V/0.6A DC
11 b/g:54, 48, 36, 24, 18, 12, 11, 9, 6, 5.5, 2, 1 Mbps
Wireless
Super G : 108 Mbps
Regulation Certifications
FCC Part 15C/15B, EN 300 328/EN 301 489-1/-17, EN60950
Long distance transmission : 1km to 30km
Transmit power table
R F S P E C I F I C A T I O N S
Signal Strength indication using LEDs
PPPoE(CR mode)
Frequency Band
802.11b/g: 2.412~2.472GHz
WEP Encryption-64/128/152 bit
Modulation Technology
OFDM = BPSK, QPSK, 16-QAM, 64-QAM
WPA/WPA2 Personal (WPA-PSK using TKIP or AES)
DSSS = DBPSK, DQPSK, CCK
WPA/WPA2 Enterprise (WPA-EAP using TKIP)
Operating Channels
Security
802.11b/g11 for North America
802.1x Authenticator
Hide SSID in beacons
802.11g
802.11b
Receive Sensitivity (Typical)
MAC address filtering, up to 50 field
-92 dBm @ 6Mbps
-97 dBm @ 1Mbps
Wireless STA (Client) connected list
-74 dBm @ 54Mbp
-89 dBm @ 11Mbps
QoS
WMM (Phase2)
FCC
Frequency
Power
Management
28dBm@6~24Mbps
Available transmit power
Configuration
Web-based configuration (HTTP)
2.412~2.462 GHz
26dBm@36Mbps
(Average power)
IEEE 802.11g
24dBm@48Mbps
Firmware Upgrade
Upgrade firmware via web-browser
23dBm@54Mbps
Keep latest setting when f/w update
2.412~2.462 GHz
Administrator Setting
Administrator password change
28dBm@1~11Mbps
IEEE 802.11b
Reset Setting
Reboot (press 1 second)
Antenna Specification
Reset to Factory Default (press more than 5 seconds)
Gain
10dBi
System monitoring
Status, Event Log
Radiation
Directional
SNMP
V1, V2c (Phase2)
Internal Antenna
Frequency Band Range
2.4 - 2.5GHz
MIB
MIB I, MIB II (RFC1213) and Private MIB (Phase2)
Horizontal -3dB Bandwidth
70°
Backup & Restore
Settings through Web
Vertical -3dB Bandwidth
35°
Time setting
NTP (Auto-setting of time)·Time setting manually
External Antenna
1* RP-SMA Female connector
E N V I R O N M E N T & P H Y S I C A L
Temperature Range
Operating: -20°C to 70°C (-4°F to 158°F)
Storage: -30°C to 80°C (-22°F to 176°F)
Humidity (non-condensing)
5%~90% typical
Dimensions
Length: 10.24" (260mm) x Width: 3.31" (84mm) x Hieght: 2.17"
(55mm)
Signal Indicators
Weight
0.66 lb. (300g)
Internal Antenna Pattern
RJ-45 Port
Reset
Ext. & Int.
External Antenna
Antenna Switch
RP-SMA Connector