I wanted to do some throughput testing with the Wi-Fi 6 EnGenius EWS377AP Access Point at close range with a Wi-Fi 6 client the Samsung Galaxy S10e and see how it compared to a Wi-Fi 5 client on the same Access Point.
I setup the EnGenius EWS377AP a 4×4 Wi-Fi 6 Access Point on a clear channel in 80Mhz mode. I placed the S10 within five feet of the Access Point in a horizontal orientation for the best results. The S10 is a 2×2 Wi-Fi 6 device the fastest speed I was able to maintain was 907Mbps or (256-QAM with a 1600 ns GI) but I briefly saw 960Mbps (256-QAM with a 800 ns GI)
I ran iPerf2 for android on the S10 in server mode and jPerf on my workstation in client mode.
Here are the results I was able to maintain 800Mbps with bursts up to 831Mbps pretty good!
If we compare these to a high end Wi-Fi 5 client the iPhone Xs I got around 600Mbps average with spikes up to 613Mbps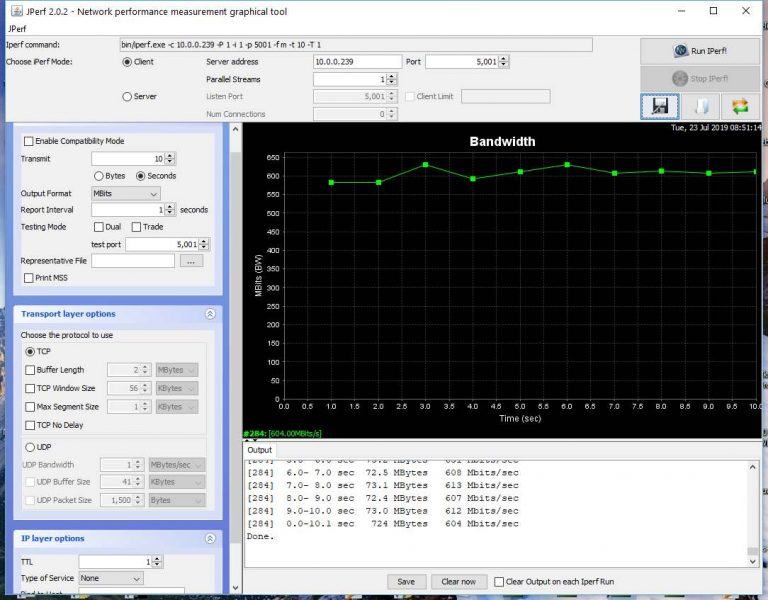 So this testing show a single 2×2 Wi-Fi 6 client can maintain 800Mbps at short range. We might need to utilize the 2.5Gbe capability of the EWS377AP sooner than we thought!
Range will be a different test but is is very hard to replicate every environment is different while my results for speed are easily reproduced
The EWS377AP is available here for under $300! https://www.keenansystems.com/store/catalog/product_info.php?products_id=564