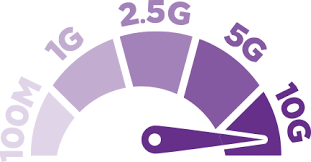 Today, most business and enterprise-class switches have one-gigabit access ports and there are not many multi gigabit switches yet on the market. The ruckus ICX7150-C10ZP-2X10GR is a compact switch that can support 1/2.5/5 and 10Gb and also the new PoH power standard with up to 90W per port.
A 802.11ax (Wi-Fi 6) AP has the potential of more than one-gigabit throughput. Therefore, a 1 GbE access port could now possibly be the bottleneck to performance for Wi-Fi users. So many of the Wi-Fi 6 AP's released will support up 2.5 Gbit/s using the multi gigabit ethernet standard NBASE-T / 2.5GBASE-T. Basically you can use the same Cat 5e or Cat6 ethernet cabling at higher speeds up to 100 meters.
All Wi-Fi 6 AP's will fall back to standard 1Gbit/s and usually feature a second 1Gb only port. There are not many Wi-Fi 6 clients out in the world at this point so saturating a 1Gb port would be very difficult with legacy clients. There is no issue with deploying Wi-Fi 6 AP's using your current gigabit switches and then plan to upgrade to multi-gigabit at a later time.
One other thing to plan for is PoE most Wi-Fi 6 AP's require full power 802.3at or PoE+ like the engenius EWS377AP and ruckus R750 . There are a few like the engenius EWS357AP that only need half power 802.3af PoE. And some like the ruckus R730 ultra high density AP need PoH for full 8×8 stream function but will fall back to 4×4 streams with PoE+ power.